Happy March Break! This week is the perfect opportunity to spend some quality time with books, games, and the company of family. Finding ways to read together can be difficult, especially with varying age groups and interests, but there are plenty of ways to add family story time to your routine no matter what age group you fall into. Check out some of our ideas for family fun time and share your own in the comments below!
Write letters.
Write to your grandma, to your friends, your favourite authors and anyone in between! Write to each other, even if you live under the same roof! Everyone loves mail and the work week can unavoidably get too hectic sometimes to catch each other up on life. Writing down all the funny quirks that happen throughout your day can be a great way to stay in touch, even when your schedules don't line up. Try decorating fun mailboxes in front of your bedroom for added fun-value.
Attend a local literary event.
Whether it's an author visit or local storytelling event, your town is packed with local listings to keep you inspired and your imagination free.
Join a book club.
Once a week, attend a book club together as a family. Try to pick a book or author that everyone can enjoy so that you can discuss it as the cliffhanger chapters happen!
Play board games.
Engage your competitive side with a family game of Scrabble or Pictionary! This will have you reading, drawing, laughing and spending time together effortlessly.
Read your own thing, together. 
Reading together doesn't have to mean reading a story to your toddler before bed, although this is a great way to spend quality time together. Reading with teenagers doesn't have to mean you read the same thing, just read in the same room! Establishing a quiet, cozy environment for all is great to spend some time unwinding with the entire family. Pour some hot chocolate, light the fire and claim your space.
Go on an adventure.
You could search and find little libraries, reading nooks, small bookstores, or other hidden gems that your city has to offer.
Read cookbooks and make something unique for dinner together.
All hands on deck for this task! Check out some of your old family cookbooks and try out new tasty treats that you haven't made yet.
However you choose to spend your week, we hope you enjoy the company of those you love with stories and laughter!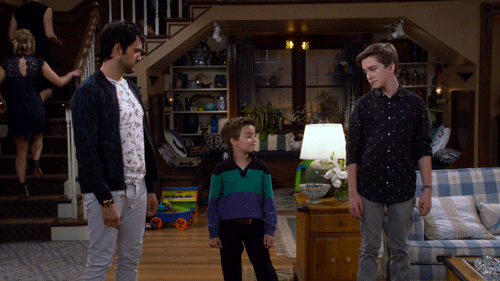 ---
Featured image via Shutterstock